-

14

%
Roll over image to zoom in
Click to open expanded view
UV-C Ultraviolet Multifunctional Disinfection Box Sterilizar – K1
৳ 1,800 (-14%)
Utilizing ultraviolet light to effectively kill or inactivate 99.9% of bacteria and virus.
Two buttons for easy operation, power supplied by USB charging cable.
Aromatherapy function: you can put the essential oil into the aromatherapy entrance, then press the aromatherapy switch to start.
Suitable for mobile phones (screen is less than 6.5inch), mouth masks, for iPod, MP4, Bluetooth earphones, baby toys, toothbrushes, etc..
Double UV lamp, strong disinfection.
DC5V/1A is provided to the device, which can be a power bank, USB plug, laptop, etc.
Our UV Smartphone sanitizer will protect you and your family from invisible, harmful organisms.
Presented in a stylish box, it's an ideal gift for germaphobes and a must-have gadget for anyone who cares about hygiene.
Frequently Bought Together
Product Description
UV-C Ultraviolet Multifunctional Disinfection Box Sterilizar | Portable UV Sterilizer Aromatherapy Function Disinfector
UV Sanitizer- The sterilizer use bacteria-zapping UV disinfectant light targets in on those difficult to reach areas, eliminating germs and up to 99.9% of bacteria
Portable Sterilizer- The sleek, ergonomic and compact design of our Phone Sanitizer makes it easy to take with you, wherever you go. Specially this phone sterilizer is powered from laptop desktop power bank usb charger, you can sanitize your cell phone with its case whether at work home traveling or car
Multi-function mobile phone sterilizer: This multi-function mobile phone sterilizer can sterilize your mobile phone or other items, such as jewelry, keys and other items through ultraviolet rays
phone uv sanitizer-Not only does the cell phone sanitizer can keep your belongs germ free, but also the uv sterilizer works like an aromatherapy diffuser. Simply add couple of your favorite aroma drops into inside, your phone will be freshen while sanitizin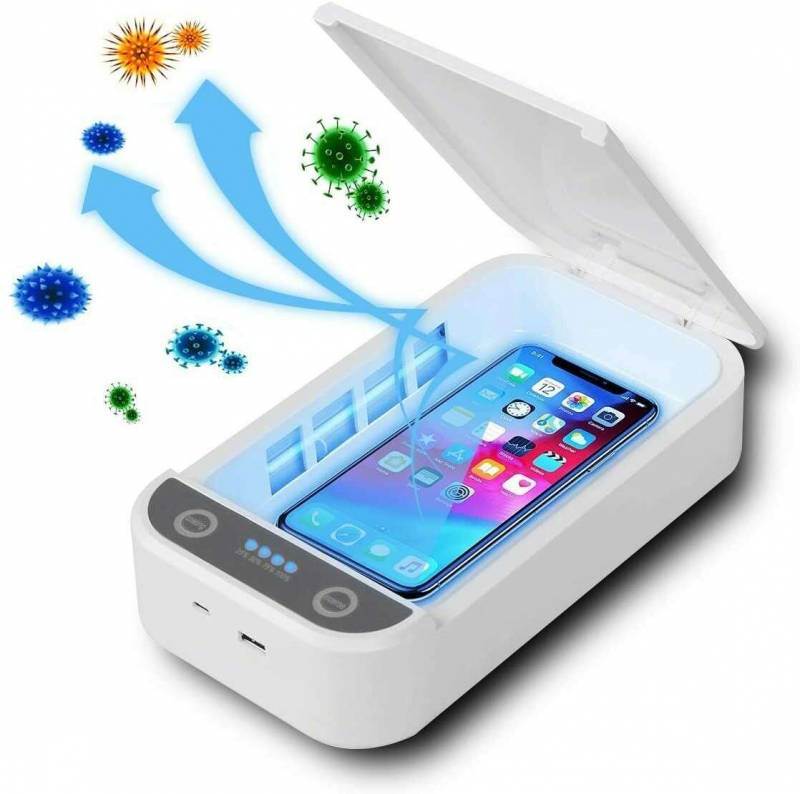 ⚡ CELL PHONE UV SANITIZER – This UV cell phone sanitizer is a convenient and safe way to sterilize your phones. No liquids, heat, or chemicals needed.

MULTI-FUNCTIONAL UV SANITIZER BOX — The UV Light Sanitizer disinfects not only cell phones, but also face masks, keys, toothbrushes, earphones, watches, and anything else that can fit in the box. It can also be an extra aromatherapy diffuser: just put some essential oils into the aromatherapy inlet to use it as an aroma humidifier and make your phones smell wonderful.

⚡ SPA YOUR GADGETS – With the stunning aromatherapy function of our UV sanitizer. Just a few drops of your favorite essential oil will leave your gadgets with a relaxing smell, turn your office, bedroom or cubicle into a soothing haven of relaxation. Under disinfection, it would have a smell like sunlight burning. Please allow time for dissipation after the operation.

PORTABLE UV PHONE SANITIZER — The sleek, ergonomic, and compact design of our Phone sterilizer makes it easy to bring everywhere you go. Since this phone uses a USB charger, it can be recharged using laptops, desktops, and power banks. You can clean your cell phone with its case on whether you're at work, at home, or traveling by car.

⚡ SMART VOICE PROMPTS – The sleek, ergonomic and compact design of our Phone Sanitizer makes it easy to take with you, wherever you go. When you press the button to start, it has voice prompts to express "start" and "end" and four indicators (25% -50% -75% -100%) to show the progress of disinfection and aromatherapy.
কিভাবে অর্ডার করবেন?
মেডিস্টোরের ওয়েবসাইটে পণ্যটি অর্ডার করতেঃ আপনার পছন্দের পণ্যটি অর্ডার করতে Buy Now এবং একের অধিক পণ্য ক্রয় করতে Add to cart এ ক্লিক করুন। তারপর Product Checkout এ ক্লিক করে প্রয়োজনীয় তথ্য নিয়ে অর্ডার ফর্মটি ফিলাপ করুন।
পেমেন্টঃ
১) Debit/Credit Card or Online Banking & Mobile Wallet Payment: যে কোন ব্যাংক এর ভিসা বা মাস্টার কার্ড এর পেমেন্ট করতে চাইলে Payment Mode এ গিয়ে SSL Commesrz সিলেক্ট করুন। এরপর আপনার কারড/ব্যাংক/মোবাইল ওয়েলেট সিলেক্ট করুন। পেমেন্ট প্রসেসিং করে অর্ডার নিশ্চিত করুন। পেমেন্ট নিশ্চিত হলে এবার আপনার মোবাইল ম্যাসেজ এবং ইমেইল চেক করে অর্ডার হয়েছে কিনা নিশ্চিত হউন।
২) Bkash Payment: Payment Mode এ গিয়ে বিকাশে পেমেন্ট করতে চাই- Bkash Payment সিলেক্ট করে আপনার বিকাশ নাম্বার থেকে পেমেন্ট অপশনে গিয়ে "Make Payment" আমাদের ০১৩১৬৪০০৭৬৮ এ পেমেন্ট করে আপনার বিকাশ নাম্বার এবং ট্রাঞ্জেকশান আইডি দিয়ে Order Place করুন। পেমেন্ট নিশ্চিত হলে এবার আপনার মোবাইল ম্যাসেজ এবং ইমেইল চেক করে অর্ডার হয়েছে কিনা নিশ্চিত হউন।
৩) Nagad/Rocket Payment: Send Money তে গিয়ে Send Money সিলেক্ট করে আপনার নগদ/রকেট নাম্বার থেকে সেন্ড অপশনে গিয়ে "Send Money" আমাদের ০১৯৮৮১২১২১২ এ সেন্ড করে আপনারনগদ/রকেট নাম্বার এবং ট্রাঞ্জেকশান আইডি দিয়ে Order Place করুন। পেমেন্ট নিশ্চিত হলে এবার আপনার মোবাইল ম্যাসেজ এবং ইমেইল চেক করে অর্ডার হয়েছে কিনা নিশ্চিত হউন।

ডেলিভারি প্রক্রিয়াঃ
১) ঢাকার মেট্রোপলিটন এরিয়া: আমাদের নিজস্ব ডেলিভারি ম্যানের সাহায্য ১২-২৪ ঘন্টায় নিশ্চিত হোম ডেলিভারী করা হয়। ডেলিভারি চার্জ – ৫০ টাকা মাত্র।
২) ঢাকার বাহিরে (সারা বাংলাদেশ): এস এ পরিবহন, সুন্দরবন, জননী, করতোয়া কুরিয়ার এর মাধ্যমে সারা বাংলাদেশেই ২৪-৩৬ ঘন্টায় নিশ্চিত ডেলিভারি করা হয়। ডেলিভারি চার্জ – ১০০ টাকা মাত্র
অর্ডার করার আরও বিস্তারিত জানতে ভিডিওটি দেখুনঃ