ALPK2 Digital Blood Pressure Monitor
৳ 4,500 (-11%)
Call us for an order by Phone: +880 1405 100400
ALPK2 Digital BP Monitor Auto Inflation
Digital Sphygmomanometer
Measures blood pressure and pulse rate

Quality made in Japan

Incorporating "Fuzzy Logic"

Easy to read Large LCD display

Automatic inflation and deflation

Preset pressure switch (180, 210,240mmHg)

Automatic Power off

Latex Free
Origin            : Japan
Warrenty        : 1 Year
Product Description
ALPK2 Digital Blood Pressure Monitor:
Details:
Buy from online one of popular BP Monitor ALPK2 Digital Blood Pressure Monitor at cheapest price in Bangladesh. Medistore sells this with the 1-year warranty in Bangladesh.
 Product Features:
Features
― Measures blood pressure and pulse rate
― Quality made in Japan
― Incorporating "Fuzzy Logic"
― Easy to read large LCD display
― Automatic Inflation and deflation
― Measurement during inflation
― "Personal mode"
― Irregular heartbeat indication
― Dual 30 times memory + average
― Date and time indication
― Cuff 23-43cm in arm circumference
― Pressure Indication range 0-300 mmHg (cuff pressure)
― Carrying bag, instruction manual and 4 x AA batteries included
― Clinically proven accuracy
Specifications:
Operating principle Oscillometric method
Indicator 12 Digits liquid crystal display
Pressure Indicating Range 0 to 300 mmHg (cuff pressure)
Measuring Range 50 to 250 mmHm (systolic)
40 to 140 mmHg (diastolic)
40 to 160 bpm (pulse rate)
Accuracy ±3 mmHg (cuff pressure)
±5% of reading (pulse rate)
Inflation Automatic inflation
Exhaust Automatic exhaust valve
Power Supply 4 x AA type batteries or AC adapter
Memory 30 measurements x 2 and averages
Operating Environment +10°C to +40°C, 85% relative humidity or below
Cuff Covers arm circumference 23 to 43 cm
Weight 280g without batteries
Size 150mm(W) x 115mm(D) x 50mm(H)
ALPK2 Digital Blood Pressure Monitor: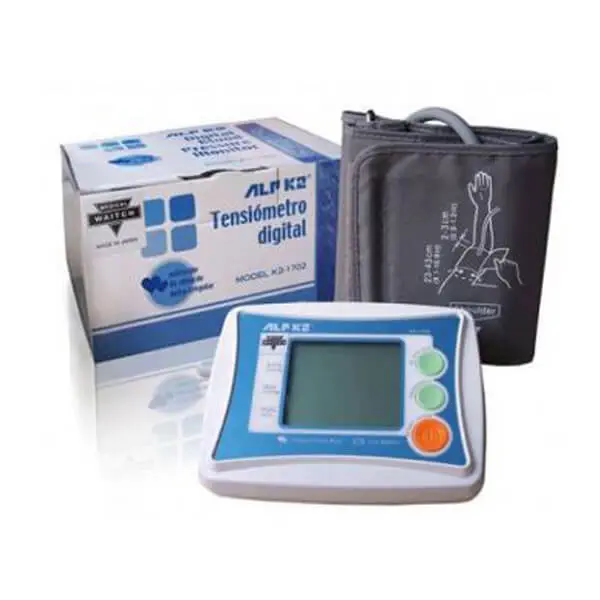 কিভাবে অর্ডার করবেন?
মেডিস্টোরের ওয়েবসাইটে পণ্যটি অর্ডার করতেঃ আপনার পছন্দের পণ্যটি অর্ডার করতে Buy Now এবং একের অধিক পণ্য ক্রয় করতে Add to cart এ ক্লিক করুন। তারপর Product Checkout এ ক্লিক করে প্রয়োজনীয় তথ্য নিয়ে অর্ডার ফর্মটি ফিলাপ করুন।
পেমেন্টঃ
১) Debit/Credit Card or Online Banking & Mobile Wallet Payment: যে কোন ব্যাংক এর ভিসা বা মাস্টার কার্ড এর পেমেন্ট করতে চাইলে Payment Mode এ গিয়ে SSL Commesrz সিলেক্ট করুন। এরপর আপনার কারড/ব্যাংক/মোবাইল ওয়েলেট সিলেক্ট করুন। পেমেন্ট প্রসেসিং করে অর্ডার নিশ্চিত করুন। পেমেন্ট নিশ্চিত হলে এবার আপনার মোবাইল ম্যাসেজ এবং ইমেইল চেক করে অর্ডার হয়েছে কিনা নিশ্চিত হউন।
২) Bkash Payment: Payment Mode এ গিয়ে বিকাশে পেমেন্ট করতে চাই- Bkash Payment সিলেক্ট করে আপনার বিকাশ নাম্বার থেকে পেমেন্ট অপশনে গিয়ে "Make Payment" আমাদের ০১৩১৬৪০০৭৬৮ এ পেমেন্ট করে আপনার বিকাশ নাম্বার এবং ট্রাঞ্জেকশান আইডি দিয়ে Order Place করুন। পেমেন্ট নিশ্চিত হলে এবার আপনার মোবাইল ম্যাসেজ এবং ইমেইল চেক করে অর্ডার হয়েছে কিনা নিশ্চিত হউন।
৩) Nagad/Rocket Payment: Send Money তে গিয়ে Send Money সিলেক্ট করে আপনার নগদ/রকেট নাম্বার থেকে সেন্ড অপশনে গিয়ে "Send Money" আমাদের ০১৯৮৮১২১২১২ এ সেন্ড করে আপনারনগদ/রকেট নাম্বার এবং ট্রাঞ্জেকশান আইডি দিয়ে Order Place করুন। পেমেন্ট নিশ্চিত হলে এবার আপনার মোবাইল ম্যাসেজ এবং ইমেইল চেক করে অর্ডার হয়েছে কিনা নিশ্চিত হউন।

ডেলিভারি প্রক্রিয়াঃ
১) ঢাকার মেট্রোপলিটন এরিয়া: আমাদের নিজস্ব ডেলিভারি ম্যানের সাহায্য ১২-২৪ ঘন্টায় নিশ্চিত হোম ডেলিভারী করা হয়। ডেলিভারি চার্জ – ৫০ টাকা মাত্র।
২) ঢাকার বাহিরে (সারা বাংলাদেশ): এস এ পরিবহন, সুন্দরবন, জননী, করতোয়া কুরিয়ার এর মাধ্যমে সারা বাংলাদেশেই ২৪-৩৬ ঘন্টায় নিশ্চিত ডেলিভারি করা হয়। ডেলিভারি চার্জ – ১০০ টাকা মাত্র
অর্ডার করার আরও বিস্তারিত জানতে ভিডিওটি দেখুনঃ