Beurer Digital Baby Scale with Measuring Tape
Rated 5.00 out of 5 based on

1

customer rating

01

(

1

Review

)
৳ 7,500 (-8%)
• Large LCD display (digit size 23 mm)
• Curved weighing surface
• Switch-on technology: button-on
• Weight capacity: 20 kg
• Adjustable between kg/lb/oz
• Easy to clean
• Non-slip, abrasion-resistant rubber feet
• Integrated tape measure for measuring height (length: 150 cm)
• Measurement memory spaces: 10
• Automatic switch-off
• "beurer BabyCare" app available for free download
• Model BY 90
• Origin Germany

Frequently Bought Together

Product Description
Weigh Your Baby at Home for Convenience and Peace of Mind
Every new parent knows the importance of keeping your baby's weight at the right levels. Their weight needs to be just right for their age and underweight babies are more susceptible to illness. Babies need a good amount of fat to help them develop and build their immune system, but unless you want to traipse to the local medical center every week or book in with your health visitor time and time again, how are you meant to weigh them at home? They certainly can't stand on your scales, can they!
Baby scale for home use to help you track and monitor your baby's weight and size
Measures in ounces, pounds, and kilograms and features an automatic or manual hold function for recording the weight of wriggling babies
Connects to the Beurer BabyCare app via Bluetooth to store baby's weight recordings (you must first download the app to your smartphone)
Features a 60inch/150cm tape measure that retracts at the press of a button to measure the baby's height
Curved weighing surface for baby's safety and comfort and non-slip rubber grip feet prevent moving once place on a surface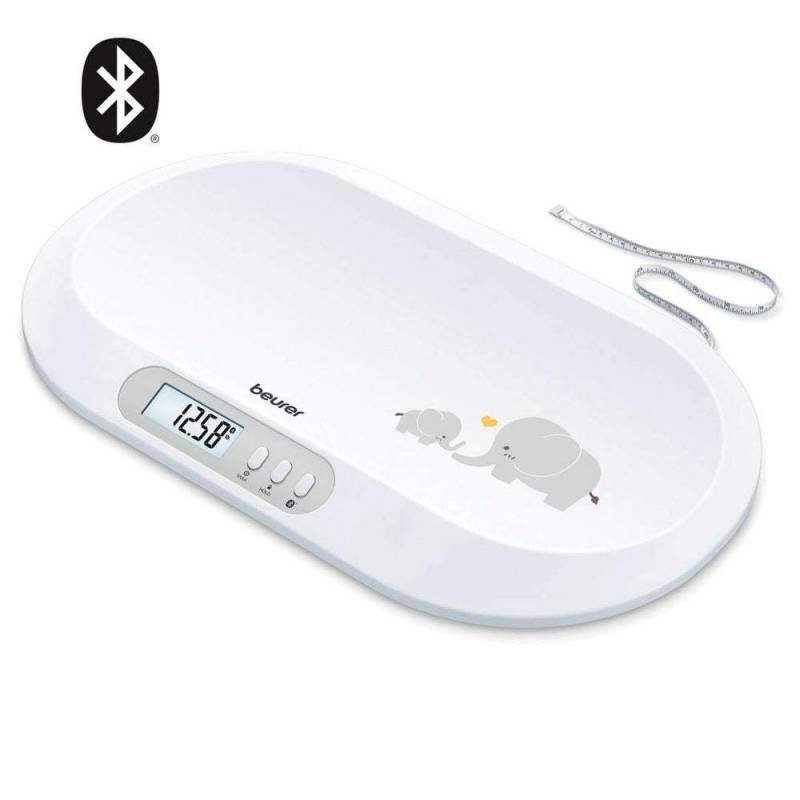 Baby Weighing Scales for Easy Use at Home
Beurer have developed their BY90 Baby Scale to make your life easier and allow you to keep track of your baby's weight whenever it is convenient for you to do so! They feature a curved weighing surface that is comfortable and safer for babies (oh how they love to roll!) and an in-built tape measure that pulls out to 60 inches (150cm) – more than adequate to measure your baby's height long after they are walking and talking!
You can store your baby's weight recordings on the Beurer BabyCare app to track their growth development, the scales themselves store 10 weight recordings with the oldest dropping off each time a new weight is measured.
The smooth, non-porous surface is easy to clean in case of little accidents (we all know babies love to 'go' at the most inopportune moments!) and its surface will warm to the baby's body temperature within seconds so they don't get cold whilst you weight them. Furthermore, if they are a bit wriggly – as all babies are! – this clever baby scale has an automatic or manual hold function for recording the weight of wriggling babies.
This baby scale will weigh up to 20kgs (44lbs) and it has an automatic switch-off function to save battery life (3xAAA batteries are included).
These baby weighing scales save you the inconvenience of taking your little one to the health center when you could just be reveling in your newfound parenthood. They would make a great gift for any new parents or parents to be so they can track their baby's health in the comfort and convenience of their own home.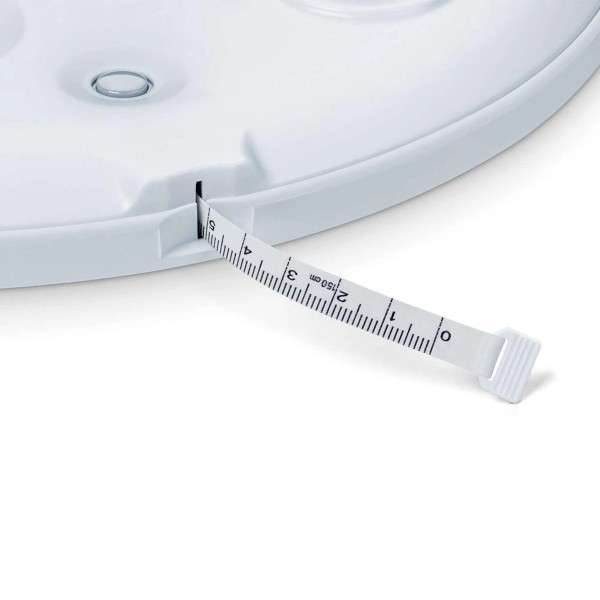 Others Features of Beurer BY 90 baby scale
Monitor Your Baby's Growth, The Smart Way.. We've designed the Beurer BY90 – so that parents can have ease of mind & can monitor & track their baby's growth & development at home, and have it all stored in their 'beurer BabyCare' app. The Beurer BY90 keeps you informed of the physical development of your baby with weight & height, thanks to the built-in tape measure.
We've designed this scale to be comfortable for both the parent & baby – featuring an easy to read, large LCD display & a curved weighing platform. With the tare function, you can achieve accurate measurements while even putting the baby's favorite blanket or toy on the scale to make it even more comfortable, & have less fuss. The scale has a weight capacity of 45 lbs & measures in 0.2 oz increments, for max. accuracy. The BY90 features a 10 memory capacity for tracking previous measurements over time. For more convenience, the scale syncs the measures values via Bluetooth to your smartphone.
Beurer BY 90 baby scale BabyCare App:
The 'beurer BabyCare' app allows you to both monitor the development of your child's height and weight while also helping you to monitor your baby's development with other relevant information to log. Information such as behavior, food intake, or general health comments/notes. This allows you to keep track of your baby's physical health & behaviors all in one place and makes it easy to share with your pediatrician.
*You can also use the baby scale without the app, if desired.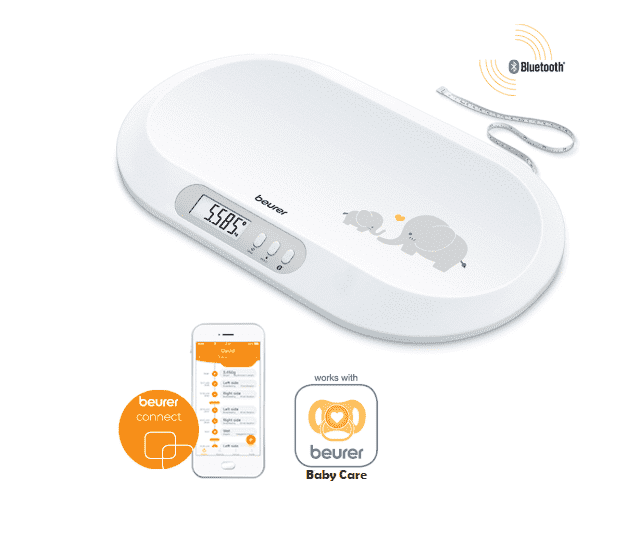 কিভাবে অর্ডার করবেন?
মেডিস্টোরের ওয়েবসাইটে পণ্যটি অর্ডার করতেঃ আপনার পছন্দের পণ্যটি অর্ডার করতে Buy Now এবং একের অধিক পণ্য ক্রয় করতে Add to cart এ ক্লিক করুন। তারপর Product Checkout এ ক্লিক করে প্রয়োজনীয় তথ্য নিয়ে অর্ডার ফর্মটি ফিলাপ করুন।
পেমেন্টঃ
১) Debit/Credit Card or Online Banking & Mobile Wallet Payment: যে কোন ব্যাংক এর ভিসা বা মাস্টার কার্ড এর পেমেন্ট করতে চাইলে Payment Mode এ গিয়ে SSL Commesrz সিলেক্ট করুন। এরপর আপনার কারড/ব্যাংক/মোবাইল ওয়েলেট সিলেক্ট করুন। পেমেন্ট প্রসেসিং করে অর্ডার নিশ্চিত করুন। পেমেন্ট নিশ্চিত হলে এবার আপনার মোবাইল ম্যাসেজ এবং ইমেইল চেক করে অর্ডার হয়েছে কিনা নিশ্চিত হউন।
২) Bkash Payment: Payment Mode এ গিয়ে বিকাশে পেমেন্ট করতে চাই- Bkash Payment সিলেক্ট করে আপনার বিকাশ নাম্বার থেকে পেমেন্ট অপশনে গিয়ে "Make Payment" আমাদের ০১৩১৬৪০০৭৬৮ এ পেমেন্ট করে আপনার বিকাশ নাম্বার এবং ট্রাঞ্জেকশান আইডি দিয়ে Order Place করুন। পেমেন্ট নিশ্চিত হলে এবার আপনার মোবাইল ম্যাসেজ এবং ইমেইল চেক করে অর্ডার হয়েছে কিনা নিশ্চিত হউন।
৩) Nagad/Rocket Payment: Send Money তে গিয়ে Send Money সিলেক্ট করে আপনার নগদ/রকেট নাম্বার থেকে সেন্ড অপশনে গিয়ে "Send Money" আমাদের ০১৯৮৮১২১২১২ এ সেন্ড করে আপনারনগদ/রকেট নাম্বার এবং ট্রাঞ্জেকশান আইডি দিয়ে Order Place করুন। পেমেন্ট নিশ্চিত হলে এবার আপনার মোবাইল ম্যাসেজ এবং ইমেইল চেক করে অর্ডার হয়েছে কিনা নিশ্চিত হউন।

ডেলিভারি প্রক্রিয়াঃ
১) ঢাকার মেট্রোপলিটন এরিয়া: আমাদের নিজস্ব ডেলিভারি ম্যানের সাহায্য ১২-২৪ ঘন্টায় নিশ্চিত হোম ডেলিভারী করা হয়। ডেলিভারি চার্জ – ৫০ টাকা মাত্র।
২) ঢাকার বাহিরে (সারা বাংলাদেশ): এস এ পরিবহন, সুন্দরবন, জননী, করতোয়া কুরিয়ার এর মাধ্যমে সারা বাংলাদেশেই ২৪-৩৬ ঘন্টায় নিশ্চিত ডেলিভারি করা হয়। ডেলিভারি চার্জ – ১০০ টাকা মাত্র
অর্ডার করার আরও বিস্তারিত জানতে ভিডিওটি দেখুনঃ
Average Rating
5.00
Rated 5.00 out of 5 based on

1

customer rating
01
(

1

Review

)