Bayer Contour NEXT Blood Glucose Meter
Rated 5.00 out of 5 based on

1

customer rating

01

(

1

Review

)
৳ 3,500 (-9%)
Ready to use out of the box (Only meter)
No Coding® technology means one less step in the testing process and eliminates errors due to user miscoding
Easy to use — Second-Chance® sampling allows a patient to apply more blood which may help to prevent wasting test strips and may help to save money
Easy to follow — Simple, on-screen messages with plain language instructions which can be set to English or Spanish plus 12 other languages
Product Type: CONTOUR®

NEXT  Glucose Meter

Brand
CONTOUR
Model
NEXT
Origin
USA
Warranty
Life Time Replace
Weight
NA
Frequently Bought Together
Product Description
The Bayer Contour Glucose meter requires small blood samples (0.6 microliters) and alternate site testing for virtually painless testing. The no-code auto-calibration feature reduces user error and makes the Contour glucometer perfect for people of all ages. The 480 value memory displays 14-day averages and can be downloaded to your home computer for advanced data management. Convenient test remainder alarms remind you when you should take your next blood glucose test. Sip-In sampling technology makes blood application quick and easy.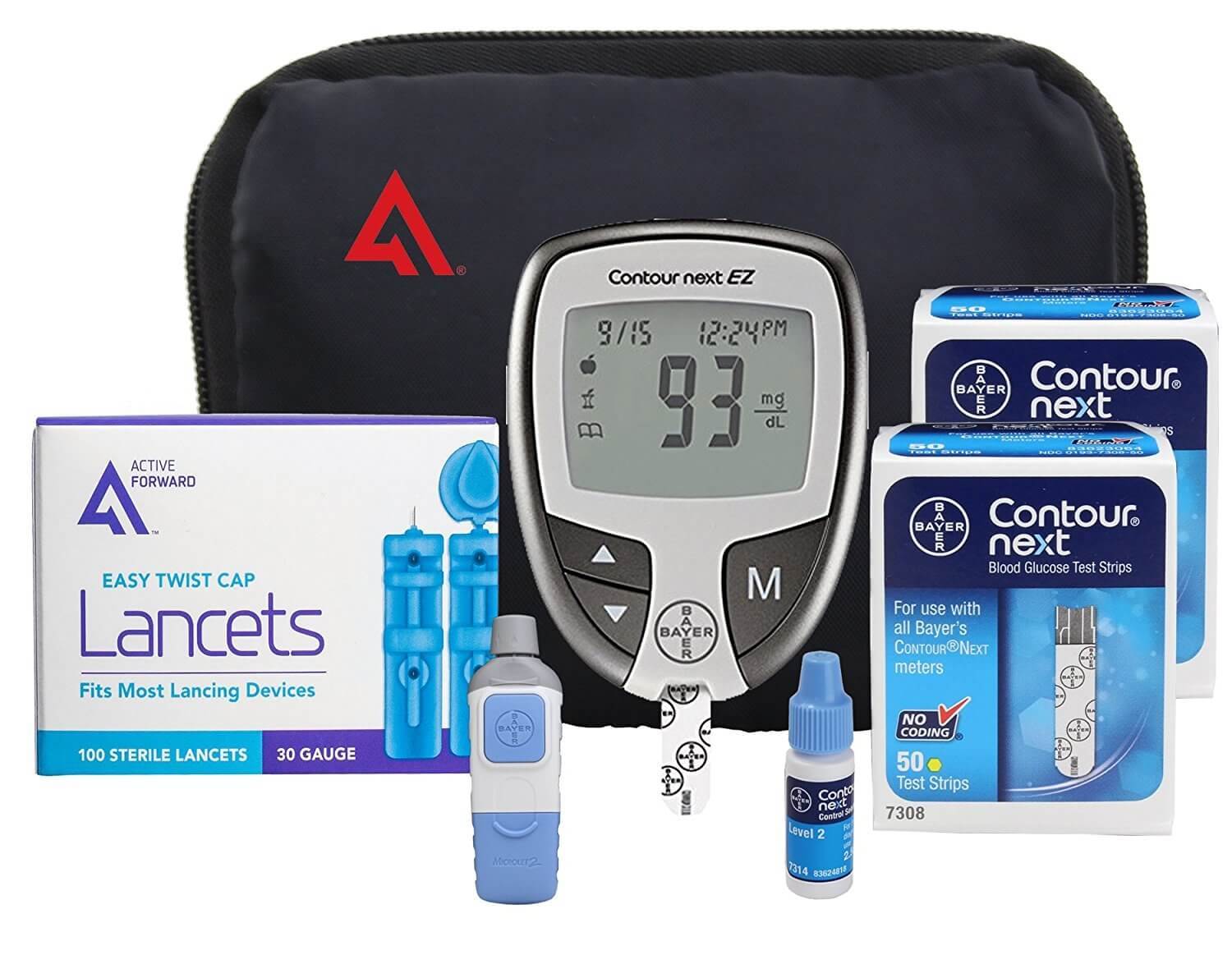 Bayer Contour NEXT features
A reversible screen contrast to best suit individual needs,
A Second-Chance system allows users to apply more blood to the same test strip if needed to avoid wasting test strips and extra finger pricking
Easy to use tracking system highlights trends in blood glucose pre-meal, post-meal, and when fasting
View 7, 14, 30, or 90-day averages for a long term view of your diabetes management
Store up to 3 months of your results, which is perfect if you need to maintain a record for the DVLA
The logbook can hold up to 800 results
Never miss a test using the in-built alarm system that can remind users to test
MultiPulse technology evaluates each sample multiple times in 7 pulses for exceptionally accurate results – advanced accuracy may help you better manage your diabetes
Downloadable software to link the meter with a computer.
কিভাবে অর্ডার করবেন?
মেডিস্টোরের ওয়েবসাইটে পণ্যটি অর্ডার করতেঃ আপনার পছন্দের পণ্যটি অর্ডার করতে Buy Now এবং একের অধিক পণ্য ক্রয় করতে Add to cart এ ক্লিক করুন। তারপর Product Checkout এ ক্লিক করে প্রয়োজনীয় তথ্য নিয়ে অর্ডার ফর্মটি ফিলাপ করুন।
পেমেন্টঃ
১) Debit/Credit Card or Online Banking & Mobile Wallet Payment: যে কোন ব্যাংক এর ভিসা বা মাস্টার কার্ড এর পেমেন্ট করতে চাইলে Payment Mode এ গিয়ে SSL Commesrz সিলেক্ট করুন। এরপর আপনার কারড/ব্যাংক/মোবাইল ওয়েলেট সিলেক্ট করুন। পেমেন্ট প্রসেসিং করে অর্ডার নিশ্চিত করুন। পেমেন্ট নিশ্চিত হলে এবার আপনার মোবাইল ম্যাসেজ এবং ইমেইল চেক করে অর্ডার হয়েছে কিনা নিশ্চিত হউন।
২) Bkash Payment: Payment Mode এ গিয়ে বিকাশে পেমেন্ট করতে চাই- Bkash Payment সিলেক্ট করে আপনার বিকাশ নাম্বার থেকে পেমেন্ট অপশনে গিয়ে "Make Payment" আমাদের ০১৩১৬৪০০৭৬৮ এ পেমেন্ট করে আপনার বিকাশ নাম্বার এবং ট্রাঞ্জেকশান আইডি দিয়ে Order Place করুন। পেমেন্ট নিশ্চিত হলে এবার আপনার মোবাইল ম্যাসেজ এবং ইমেইল চেক করে অর্ডার হয়েছে কিনা নিশ্চিত হউন।
৩) Nagad/Rocket Payment: Send Money তে গিয়ে Send Money সিলেক্ট করে আপনার নগদ/রকেট নাম্বার থেকে সেন্ড অপশনে গিয়ে "Send Money" আমাদের ০১৯৮৮১২১২১২ এ সেন্ড করে আপনারনগদ/রকেট নাম্বার এবং ট্রাঞ্জেকশান আইডি দিয়ে Order Place করুন। পেমেন্ট নিশ্চিত হলে এবার আপনার মোবাইল ম্যাসেজ এবং ইমেইল চেক করে অর্ডার হয়েছে কিনা নিশ্চিত হউন।

ডেলিভারি প্রক্রিয়াঃ
১) ঢাকার মেট্রোপলিটন এরিয়া: আমাদের নিজস্ব ডেলিভারি ম্যানের সাহায্য ১২-২৪ ঘন্টায় নিশ্চিত হোম ডেলিভারী করা হয়। ডেলিভারি চার্জ – ৫০ টাকা মাত্র।
২) ঢাকার বাহিরে (সারা বাংলাদেশ): এস এ পরিবহন, সুন্দরবন, জননী, করতোয়া কুরিয়ার এর মাধ্যমে সারা বাংলাদেশেই ২৪-৩৬ ঘন্টায় নিশ্চিত ডেলিভারি করা হয়। ডেলিভারি চার্জ – ১০০ টাকা মাত্র
অর্ডার করার আরও বিস্তারিত জানতে ভিডিওটি দেখুনঃ
Average Rating
5.00
Rated 5.00 out of 5 based on

1

customer rating
01
(

1

Review

)