JUMPER JPD-500G Portable Fingertip Pulse Oximeter
Rated 5.00 out of 5 based on

1

customer rating

01

(

1

Review

)
৳ 2,800 (-16%)
Oximeter and Pulse Monitoring
The selectable range for the alarm function
Bright and clear LED display
Adjustable brightness up to 3 levels
Lightweight and Portable
High Accuracy
Perfect for the medical center, health-conscious people, etc.
Brand: Jumper
Model: JPD-500G
Origin: China

Frequently Bought Together
Product Description
JUMPER JPD-500G Pulse Oximeter
JUMPER JPD-500G Pulse Oximeter, Comfortable mop. The large HD
screen
and unique silicone case ensure clear and comfortable measurement. Alarm function. You can set an audible alarm to alert you when
SpO2
and pulse rate are outside the specified limits. Suitable for all ages. Finger compartment with the intelligent spring
system
. Adapted to a wide range of finger sizes – from children to adults.

Monitoring person's blood oxygen level(SpO2), pulse rate(PR), and perfusion index(PI)
High accuracy & real-time measurement indication. Get readings even if the blood perfusion index is as low as 0.3%. Good assistant for doctors and nurses
HD large screen and unique soft silicon housing provide clear and comfortable measurement
Alarm function. The auditory alarm can be set to warn you when your SpO2 and pulse rate are beyond set limits
Suitable for all ages. Finger chamber with the smart spring system. Accommodates a wide range of finger sizes – children to adult
Adjustable brightness
[Option] Real-time synchronization with free APP through Bluetooth to record and store the data of blood oxygen level (SpO2), pulse rate(PR), and perfusion index(PI) on cloud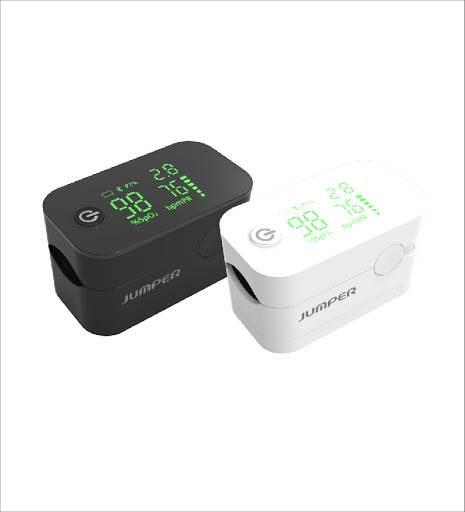 How to use the heart rate monitor
Insert your finger into the device (fingertip down)
Press to start the measurement
Wait 5 – 7 seconds for the result. The saturation range in healthy people is between 93 and 99%.
The heart rate range is 60-90 beats per minute.
Interpretation of results.
Saturation equal to or higher than 95% – a reasonable level
Saturation 90-95% – monitor your saturation level
Saturation below 90% – risk hypoxia – contact your doctor.
Saturation below 80% – hypoxia – emergency medical care.
Saturation below 70% – the risk of loss of consciousness.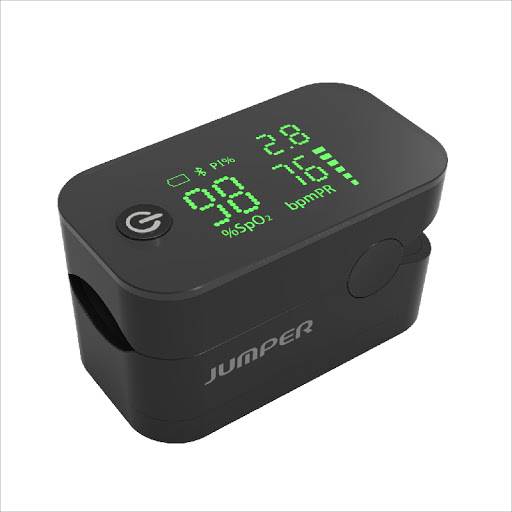 Package included:
1 x Fingertip Pulse Oximeter
1 x Lanyard
1 x Carrying Pouch
2 x English User Manuals
Other items not included
কিভাবে অর্ডার করবেন?
মেডিস্টোরের ওয়েবসাইটে পণ্যটি অর্ডার করতেঃ আপনার পছন্দের পণ্যটি অর্ডার করতে Buy Now এবং একের অধিক পণ্য ক্রয় করতে Add to cart এ ক্লিক করুন। তারপর Product Checkout এ ক্লিক করে প্রয়োজনীয় তথ্য নিয়ে অর্ডার ফর্মটি ফিলাপ করুন।
পেমেন্টঃ
১) Debit/Credit Card or Online Banking & Mobile Wallet Payment: যে কোন ব্যাংক এর ভিসা বা মাস্টার কার্ড এর পেমেন্ট করতে চাইলে Payment Mode এ গিয়ে SSL Commesrz সিলেক্ট করুন। এরপর আপনার কারড/ব্যাংক/মোবাইল ওয়েলেট সিলেক্ট করুন। পেমেন্ট প্রসেসিং করে অর্ডার নিশ্চিত করুন। পেমেন্ট নিশ্চিত হলে এবার আপনার মোবাইল ম্যাসেজ এবং ইমেইল চেক করে অর্ডার হয়েছে কিনা নিশ্চিত হউন।
২) Bkash Payment: Payment Mode এ গিয়ে বিকাশে পেমেন্ট করতে চাই- Bkash Payment সিলেক্ট করে আপনার বিকাশ নাম্বার থেকে পেমেন্ট অপশনে গিয়ে "Make Payment" আমাদের ০১৩১৬৪০০৭৬৮ এ পেমেন্ট করে আপনার বিকাশ নাম্বার এবং ট্রাঞ্জেকশান আইডি দিয়ে Order Place করুন। পেমেন্ট নিশ্চিত হলে এবার আপনার মোবাইল ম্যাসেজ এবং ইমেইল চেক করে অর্ডার হয়েছে কিনা নিশ্চিত হউন।
৩) Nagad/Rocket Payment: Send Money তে গিয়ে Send Money সিলেক্ট করে আপনার নগদ/রকেট নাম্বার থেকে সেন্ড অপশনে গিয়ে "Send Money" আমাদের ০১৯৮৮১২১২১২ এ সেন্ড করে আপনারনগদ/রকেট নাম্বার এবং ট্রাঞ্জেকশান আইডি দিয়ে Order Place করুন। পেমেন্ট নিশ্চিত হলে এবার আপনার মোবাইল ম্যাসেজ এবং ইমেইল চেক করে অর্ডার হয়েছে কিনা নিশ্চিত হউন।

ডেলিভারি প্রক্রিয়াঃ
১) ঢাকার মেট্রোপলিটন এরিয়া: আমাদের নিজস্ব ডেলিভারি ম্যানের সাহায্য ১২-২৪ ঘন্টায় নিশ্চিত হোম ডেলিভারী করা হয়। ডেলিভারি চার্জ – ৫০ টাকা মাত্র।
২) ঢাকার বাহিরে (সারা বাংলাদেশ): এস এ পরিবহন, সুন্দরবন, জননী, করতোয়া কুরিয়ার এর মাধ্যমে সারা বাংলাদেশেই ২৪-৩৬ ঘন্টায় নিশ্চিত ডেলিভারি করা হয়। ডেলিভারি চার্জ – ১০০ টাকা মাত্র
অর্ডার করার আরও বিস্তারিত জানতে ভিডিওটি দেখুনঃ
Average Rating
5.00
Rated 5.00 out of 5 based on

1

customer rating
01
(

1

Review

)