Super Professional Hair Dryer
Rated 5.00 out of 5 based on

1

customer rating

01

(

1

Review

)
৳ 1,650 (-15%)
Hair Dryer
3000w Read Heat Power
Longlife Professional Motor
Powerful and Steady Wind Speed
Centralized Wind Power
2 Air Concentrators
Two Different Air Pressures
60mm width: High Air Blow
Product Description
Product details of  Super Professional Hair Dryer:
Healthy and beautifully styled hair are now easier to have. Let the Super Professional Hair Dryer give you beautiful hair that's bouncy and gorgeous with your every stride.
Blow drying does make styling a lot easier, but it has so much more benefits. It's a lot faster than air-drying, giving you more time to do more important things. Those who have finer hair will benefit from blow drying because it gives more volume with proper use. And since you can style your hair yourself, it's more economical than spending hundreds on the salon. Remember though to use your Mozer Hair Dryer the right way, since too much heat can also damage the hair. Of course, invest on the right hair product.
Having the Super Professional Hair Dryer as your styling tool will save your hair not only from a bad hairstyle but from hair damage, too. This dryer has a 3000W motor that ensures great drying results. Its ionic feature protects your hair and leaves it beautifully styled, hence the only thing left to do is add a beautiful accessory to it or just enjoy its natural glow after being blow-dried. Equipped with two different air pressures from its two concentrators, the Mozer Super Professional Hair Dryer also takes your comfort into consideration, giving you all the right tools to have perfect hair with just a touch of a button.
Love playing with your hair?
Sticking to just one hairstyle for each and every day can be boring for someone as exciting as you. Let your hair follow your mood. Romantic curls or sleek and straight? You do not need to go to the salon for that. Style your hair at home with the perfect set of hair gels, hair curlers, and other hair styling tools from Lazada.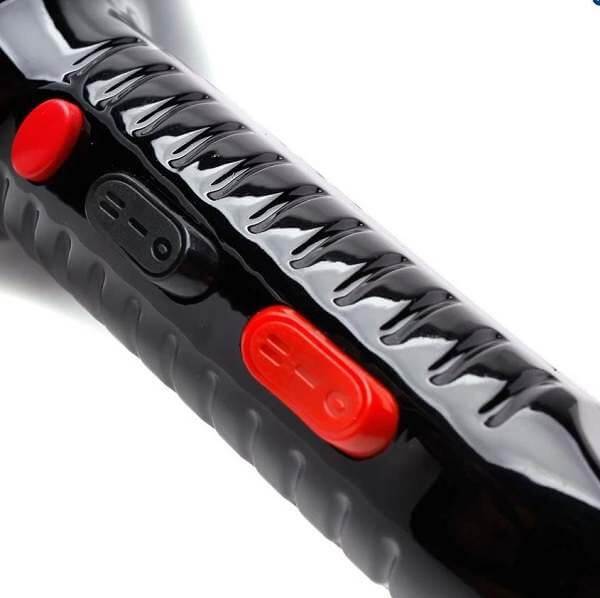 Additional Information:
– 75mm width: Mid Air Blow
– 60mm width: High Air Blow
– Ionic Function
– Long-life Professional Motor
– Powerful and Steady Wind Speed
– Centralized Wind Power
কিভাবে অর্ডার করবেন?
মেডিস্টোরের ওয়েবসাইটে পণ্যটি অর্ডার করতেঃ আপনার পছন্দের পণ্যটি অর্ডার করতে Buy Now এবং একের অধিক পণ্য ক্রয় করতে Add to cart এ ক্লিক করুন। তারপর Product Checkout এ ক্লিক করে প্রয়োজনীয় তথ্য নিয়ে অর্ডার ফর্মটি ফিলাপ করুন।
পেমেন্টঃ
১) Debit/Credit Card or Online Banking & Mobile Wallet Payment: যে কোন ব্যাংক এর ভিসা বা মাস্টার কার্ড এর পেমেন্ট করতে চাইলে Payment Mode এ গিয়ে SSL Commesrz সিলেক্ট করুন। এরপর আপনার কারড/ব্যাংক/মোবাইল ওয়েলেট সিলেক্ট করুন। পেমেন্ট প্রসেসিং করে অর্ডার নিশ্চিত করুন। পেমেন্ট নিশ্চিত হলে এবার আপনার মোবাইল ম্যাসেজ এবং ইমেইল চেক করে অর্ডার হয়েছে কিনা নিশ্চিত হউন।
২) Bkash Payment: Payment Mode এ গিয়ে বিকাশে পেমেন্ট করতে চাই- Bkash Payment সিলেক্ট করে আপনার বিকাশ নাম্বার থেকে পেমেন্ট অপশনে গিয়ে "Make Payment" আমাদের ০১৩১৬৪০০৭৬৮ এ পেমেন্ট করে আপনার বিকাশ নাম্বার এবং ট্রাঞ্জেকশান আইডি দিয়ে Order Place করুন। পেমেন্ট নিশ্চিত হলে এবার আপনার মোবাইল ম্যাসেজ এবং ইমেইল চেক করে অর্ডার হয়েছে কিনা নিশ্চিত হউন।
৩) Nagad/Rocket Payment: Send Money তে গিয়ে Send Money সিলেক্ট করে আপনার নগদ/রকেট নাম্বার থেকে সেন্ড অপশনে গিয়ে "Send Money" আমাদের ০১৯৮৮১২১২১২ এ সেন্ড করে আপনারনগদ/রকেট নাম্বার এবং ট্রাঞ্জেকশান আইডি দিয়ে Order Place করুন। পেমেন্ট নিশ্চিত হলে এবার আপনার মোবাইল ম্যাসেজ এবং ইমেইল চেক করে অর্ডার হয়েছে কিনা নিশ্চিত হউন।

ডেলিভারি প্রক্রিয়াঃ
১) ঢাকার মেট্রোপলিটন এরিয়া: আমাদের নিজস্ব ডেলিভারি ম্যানের সাহায্য ১২-২৪ ঘন্টায় নিশ্চিত হোম ডেলিভারী করা হয়। ডেলিভারি চার্জ – ৫০ টাকা মাত্র।
২) ঢাকার বাহিরে (সারা বাংলাদেশ): এস এ পরিবহন, সুন্দরবন, জননী, করতোয়া কুরিয়ার এর মাধ্যমে সারা বাংলাদেশেই ২৪-৩৬ ঘন্টায় নিশ্চিত ডেলিভারি করা হয়। ডেলিভারি চার্জ – ১০০ টাকা মাত্র
অর্ডার করার আরও বিস্তারিত জানতে ভিডিওটি দেখুনঃ
Average Rating
5.00
Rated 5.00 out of 5 based on

1

customer rating
01
(

1

Review

)