-

7

%
Roll over image to zoom in
Click to open expanded view
Sleeping Wheelchair With Commode
Rated 5.00 out of 5 based on

1

customer rating

01

(

1

Review

)
৳ 21,500 (-7%)
Bed type commode wheelchair

Fixed armrests and footrests have a seat width of 17, depth of 16, and can bear a weight up to 100kg

Huge storage commode capacity

It is easily foldable

Highly durable

Made in China
Frequently Bought Together

Product Description
This wheelchair is one of the multi-purpose chairs which boast features like reclining, inbuilt commode, customizable armrest and footrest, and foldable nature of the chair. These products are widely known among the recognized hospitals, clinics, nursing homes for their unmatched quality, easy operations, and other features.
Features:
Foldable Chromed Steel Frame
Plastic Commode Seat
Reclining High Back
Detachable Armrest & Elevating Footrest
Solid Castor & Rear Wheel
Dual Braking System
Padded Thigh Support
Easy to fold and unfold within seconds.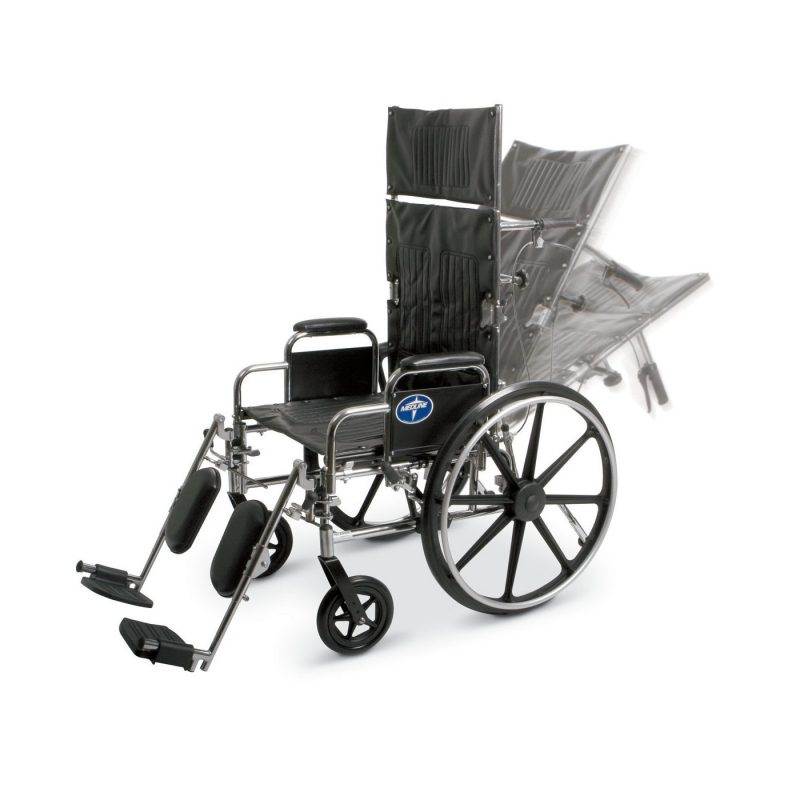 This wheelchair can be folded very easily within seconds, making it easier during travels and outings. The backrest of the chair can be easily reclined, giving the user the freedom to relax by not moving up from the chair. The footrest can be inclined and adjusted so as to make the user comfortable during reclining or otherwise. Well-padded thigh support is an add-on to the footrest. The front and rear wheels of the chair are designed and placed in such a way so as to support the reclining of the user, making it a very safe and friendly wheelchair. The inbuilt commode has its seat just underneath the main seat of the chair; it can be used by just removing the main seat. The Wheelchair can also be folded from between by just removing the commode and the chair's seat. A Dual braking system is provided; one at the user's disposal and the other alongside the Assistant's Handle.
This Wheelchair's functionality gives the user total freedom.
Frame Style: FoldableFrame Material: MS Chrome Platedopen position wheel to wheel width: 26 "(inches)Seat Width: 18 "(inches)Closing position in total width: 11 "(inches)Rear Wheel Size: 24 "(inches)Front Wheel Size: 8 "(inches)Seat to Floor Height in: 21 "(inches)Seat Depth: 18 "(inches)Total Height: 50 "(inches)Max User Weight Capacity (kgs): 110Net Weight (kgs): 23Upholstery: RexineArmrest: DetachableLeg rest: elevated footrest with detachableAdded comfort for calf support wheel Quality: Rear Solid WheelsRear Wheel Lock: YesHand Brakes: NoDrop Back Handle: NoHeadrest Support AvailableNeck Support AvailablePot with Plastic Commode seat.Cushioned Top CoverRear tyer Solid tube lessRound commode panRemovable PanPan with Lid and Handle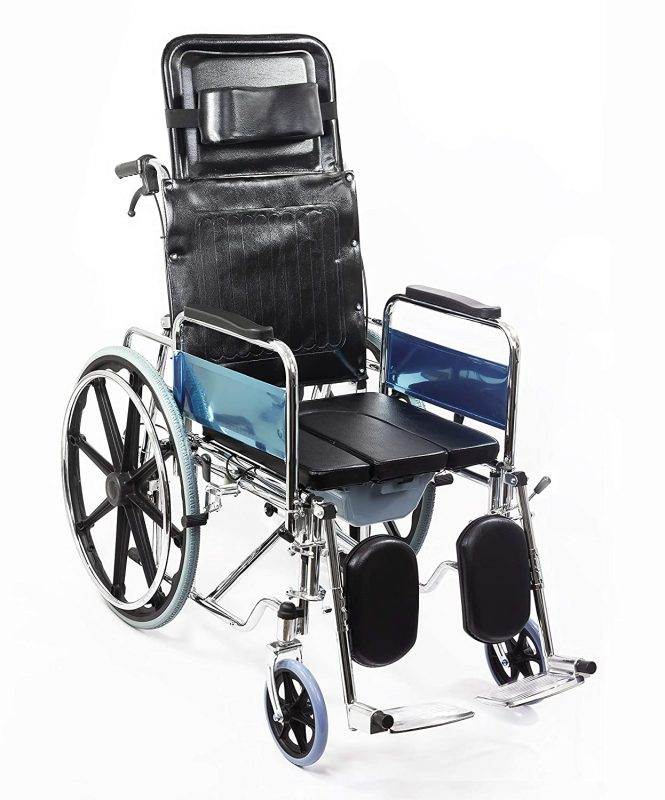 কিভাবে অর্ডার করবেন?
মেডিস্টোরের ওয়েবসাইটে পণ্যটি অর্ডার করতেঃ আপনার পছন্দের পণ্যটি অর্ডার করতে Buy Now এবং একের অধিক পণ্য ক্রয় করতে Add to cart এ ক্লিক করুন। তারপর Product Checkout এ ক্লিক করে প্রয়োজনীয় তথ্য নিয়ে অর্ডার ফর্মটি ফিলাপ করুন।
পেমেন্টঃ
১) Debit/Credit Card or Online Banking & Mobile Wallet Payment: যে কোন ব্যাংক এর ভিসা বা মাস্টার কার্ড এর পেমেন্ট করতে চাইলে Payment Mode এ গিয়ে SSL Commesrz সিলেক্ট করুন। এরপর আপনার কারড/ব্যাংক/মোবাইল ওয়েলেট সিলেক্ট করুন। পেমেন্ট প্রসেসিং করে অর্ডার নিশ্চিত করুন। পেমেন্ট নিশ্চিত হলে এবার আপনার মোবাইল ম্যাসেজ এবং ইমেইল চেক করে অর্ডার হয়েছে কিনা নিশ্চিত হউন।
২) Bkash Payment: Payment Mode এ গিয়ে বিকাশে পেমেন্ট করতে চাই- Bkash Payment সিলেক্ট করে আপনার বিকাশ নাম্বার থেকে পেমেন্ট অপশনে গিয়ে "Make Payment" আমাদের ০১৩১৬৪০০৭৬৮ এ পেমেন্ট করে আপনার বিকাশ নাম্বার এবং ট্রাঞ্জেকশান আইডি দিয়ে Order Place করুন। পেমেন্ট নিশ্চিত হলে এবার আপনার মোবাইল ম্যাসেজ এবং ইমেইল চেক করে অর্ডার হয়েছে কিনা নিশ্চিত হউন।
৩) Nagad/Rocket Payment: Send Money তে গিয়ে Send Money সিলেক্ট করে আপনার নগদ/রকেট নাম্বার থেকে সেন্ড অপশনে গিয়ে "Send Money" আমাদের ০১৯৮৮১২১২১২ এ সেন্ড করে আপনারনগদ/রকেট নাম্বার এবং ট্রাঞ্জেকশান আইডি দিয়ে Order Place করুন। পেমেন্ট নিশ্চিত হলে এবার আপনার মোবাইল ম্যাসেজ এবং ইমেইল চেক করে অর্ডার হয়েছে কিনা নিশ্চিত হউন।

ডেলিভারি প্রক্রিয়াঃ
১) ঢাকার মেট্রোপলিটন এরিয়া: আমাদের নিজস্ব ডেলিভারি ম্যানের সাহায্য ১২-২৪ ঘন্টায় নিশ্চিত হোম ডেলিভারী করা হয়। ডেলিভারি চার্জ – ৫০ টাকা মাত্র।
২) ঢাকার বাহিরে (সারা বাংলাদেশ): এস এ পরিবহন, সুন্দরবন, জননী, করতোয়া কুরিয়ার এর মাধ্যমে সারা বাংলাদেশেই ২৪-৩৬ ঘন্টায় নিশ্চিত ডেলিভারি করা হয়। ডেলিভারি চার্জ – ১০০ টাকা মাত্র
অর্ডার করার আরও বিস্তারিত জানতে ভিডিওটি দেখুনঃ
Average Rating
5.00
Rated 5.00 out of 5 based on

1

customer rating
01
(

1

Review

)