UVC LED V40 UV Ultraviolet Sterilizer USB Charge Germicidal UV
৳ 1,500 (-30%)
30 second quick completion of disinfection, sterilization rate is up to 99.9%
Original imported LED Lamp Beads and Intelligent Chip
Physical sterilization, no Mercy and Ozone, safe and environmental
Portable, fashionable and artistic, Long 18 day battery life!
Intelligent child lock design
The digital display shows sterilization time
Frequently Bought Together
Product Description
The V40 UV-C Sterilizer Wand employs a new generation of Deep UV-C LED sanitizing technology turning the original large sterilization equipment into portable disinfecting tools that can be put in your pocket. Making sterilization any time and anywhere is possible with the V40 UV-C Sterilizer Wand. The V40 UV-C Sterilizer Wand has a quick 30 second disinfecting time which save you time while on the go!
*Warning avoid contact with skin and eye to prevent injury!*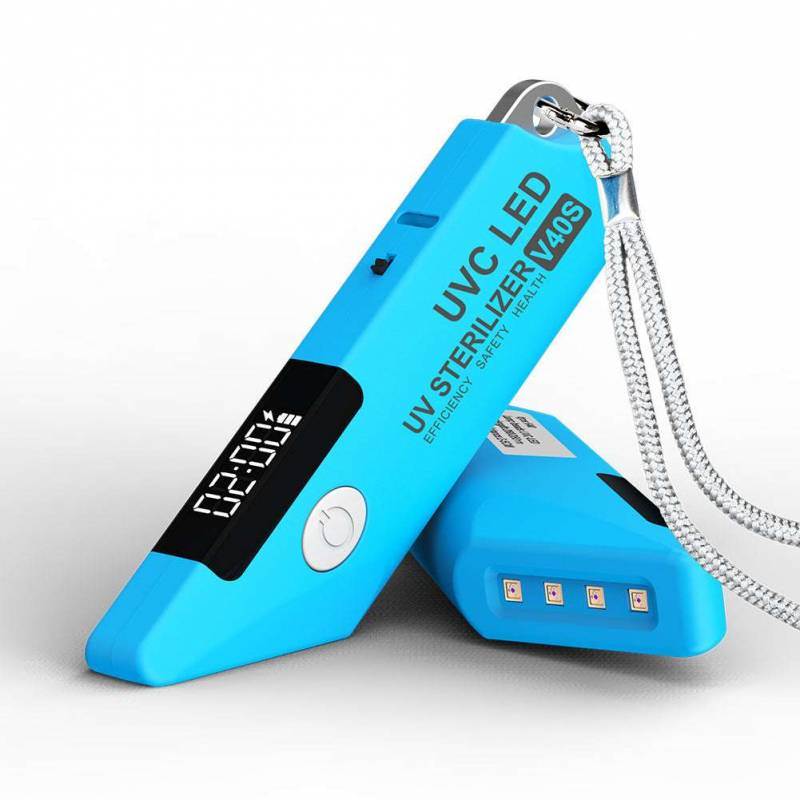 HOW TO USE & DISINFECT – The Luma UV Wand uses the power of UV light to sanitize everyday items we touch without using any harsh chemicals. The UV light is emitted in wavelengths of 240nm-280nm, which has the power to kill 99.9% of viruses, bacteria, and germs.  For effective sterilization, items should be placed under UV-C light for at least 30 seconds
SAFETY FIRST – When handled properly, UV-C light is completely safe. The Luma UV Wand's intuitive design has an automatic timer function that can be turned off in 180 seconds and the built in child lock can prevent children from misuse. NOTE: Do not allow the UV-C light to shine in your eyes or on unprotected skin. 
FEATURES & BENEFITS – The Luma Wand was designed with a digital timer and a 2-minute countdown sterilization mode for peace of mind that your item has effectively been sanitized. It's compact size alone makes it easy to travel with but combined with a carry bag and wrist strap that can easily attach to a purse, diaper bag, luggage, or pocket, this wand can be taken with you anywhere! The Luma UV Wand is equipped with a rechargeable lithium battery for long-lasting battery life and a universal USB-C charging cable, making it compatible with most iPhones and Samsung devices.
WHERE TO USE – For years, UV-C light has been in professional and healthcare environments such as laboratories, hospitals, dental offices, and restaurant kitchens for sterilization purposes. Luma brings you the same technology in a portable, affordable, and easy to use device. Place a variety of household items under the wand UV-C light such as kitchen utensils, remote controls, cell phones, pacifiers, toys, jewelry, toothbrushes, and pet items. Bring your Luma UV Wand with you while you travel to sanitize luggage, hotel items, grocery carts, and much more.
Features:
30-second quick completion of disinfection, sterilization rate is up to 99.9%
Original imported LED Lamp Beads and Intelligent Chip
Physical sterilization, no Mercy and Ozone, safe and environmental
Portable, fashionable and artistic, Long 18 day battery life!
Intelligent child lock design
The digital display shows sterilization time
Specifications:
Power – 3 watt
Charging Voltage – 5V DC
Charging Interface – Type C USB
Battery Capacity – 2600mah
Battery Life – 2.5 Hrs
UVC Wavelength – 260/280nm
Light Source – UVC LED
Emitting Angle – 140 Degree Directional Sterilization
Sterilization Distance – Up to 2″ away from surface
Safety – Child Lock
Weight – 2.25 lbs
Sterilizer Wand Size – 5″ x 1-3/8″ x 1″
Packaging Size – 7″ x 3″ x 2″
Certificates – CE & FCC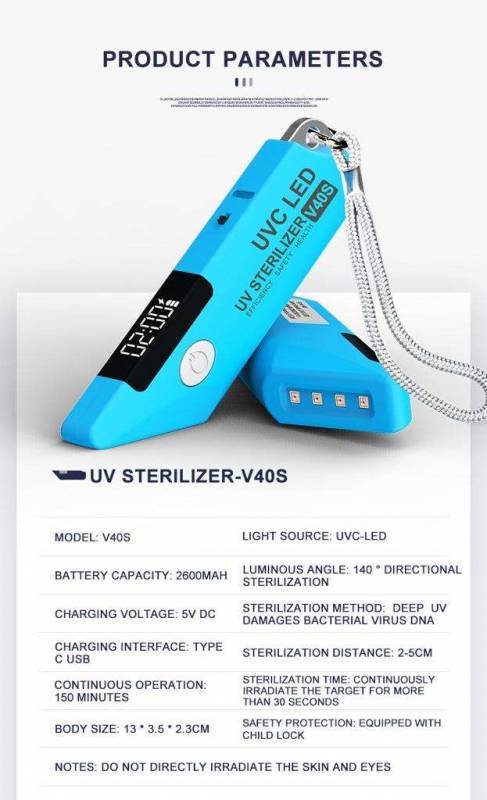 Includes:
Sterilizing UV-C Wand
Charging Cable
Wrist Strap
Cloth Bag
Manual
Packaging Details

Handheld Timing Ultraviolet Sterilizing Disinfection LED Lamp UVC Sanitizer Portable UV Light can be packaged in retail.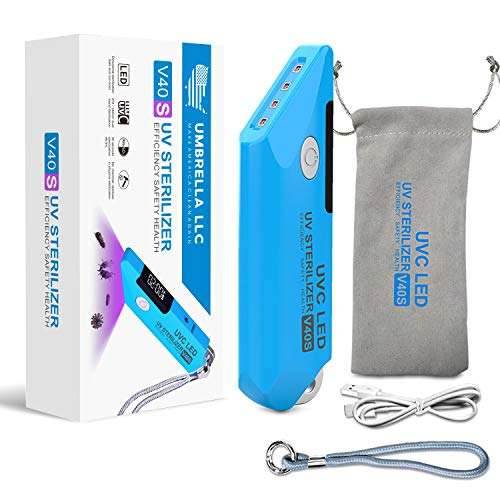 কিভাবে অর্ডার করবেন?
মেডিস্টোরের ওয়েবসাইটে পণ্যটি অর্ডার করতেঃ আপনার পছন্দের পণ্যটি অর্ডার করতে Buy Now এবং একের অধিক পণ্য ক্রয় করতে Add to cart এ ক্লিক করুন। তারপর Product Checkout এ ক্লিক করে প্রয়োজনীয় তথ্য নিয়ে অর্ডার ফর্মটি ফিলাপ করুন।
পেমেন্টঃ
১) Debit/Credit Card or Online Banking & Mobile Wallet Payment: যে কোন ব্যাংক এর ভিসা বা মাস্টার কার্ড এর পেমেন্ট করতে চাইলে Payment Mode এ গিয়ে SSL Commesrz সিলেক্ট করুন। এরপর আপনার কারড/ব্যাংক/মোবাইল ওয়েলেট সিলেক্ট করুন। পেমেন্ট প্রসেসিং করে অর্ডার নিশ্চিত করুন। পেমেন্ট নিশ্চিত হলে এবার আপনার মোবাইল ম্যাসেজ এবং ইমেইল চেক করে অর্ডার হয়েছে কিনা নিশ্চিত হউন।
২) Bkash Payment: Payment Mode এ গিয়ে বিকাশে পেমেন্ট করতে চাই- Bkash Payment সিলেক্ট করে আপনার বিকাশ নাম্বার থেকে পেমেন্ট অপশনে গিয়ে "Make Payment" আমাদের ০১৩১৬৪০০৭৬৮ এ পেমেন্ট করে আপনার বিকাশ নাম্বার এবং ট্রাঞ্জেকশান আইডি দিয়ে Order Place করুন। পেমেন্ট নিশ্চিত হলে এবার আপনার মোবাইল ম্যাসেজ এবং ইমেইল চেক করে অর্ডার হয়েছে কিনা নিশ্চিত হউন।
৩) Nagad/Rocket Payment: Send Money তে গিয়ে Send Money সিলেক্ট করে আপনার নগদ/রকেট নাম্বার থেকে সেন্ড অপশনে গিয়ে "Send Money" আমাদের ০১৯৮৮১২১২১২ এ সেন্ড করে আপনারনগদ/রকেট নাম্বার এবং ট্রাঞ্জেকশান আইডি দিয়ে Order Place করুন। পেমেন্ট নিশ্চিত হলে এবার আপনার মোবাইল ম্যাসেজ এবং ইমেইল চেক করে অর্ডার হয়েছে কিনা নিশ্চিত হউন।

ডেলিভারি প্রক্রিয়াঃ
১) ঢাকার মেট্রোপলিটন এরিয়া: আমাদের নিজস্ব ডেলিভারি ম্যানের সাহায্য ১২-২৪ ঘন্টায় নিশ্চিত হোম ডেলিভারী করা হয়। ডেলিভারি চার্জ – ৫০ টাকা মাত্র।
২) ঢাকার বাহিরে (সারা বাংলাদেশ): এস এ পরিবহন, সুন্দরবন, জননী, করতোয়া কুরিয়ার এর মাধ্যমে সারা বাংলাদেশেই ২৪-৩৬ ঘন্টায় নিশ্চিত ডেলিভারি করা হয়। ডেলিভারি চার্জ – ১০০ টাকা মাত্র
অর্ডার করার আরও বিস্তারিত জানতে ভিডিওটি দেখুনঃ