Knee Cap Open Patella Single
Rated 5.00 out of 5 based on

1

customer rating

01

(

1

Review

)
৳ 1,000 (-20%)
Knee Cap Open Patella (Single)
Product          : Knee Cap Open Patella
Brand            : Tynor
Origin            : India
Warrenty       :  6 month
Sizes Available: S / M / L / XL
Knee Cap open patella is a compression tubular support used in orthopaedic practice to provide firm compression warmth & support to the limbs and joints, to allay pain and inflammation, generally associated with old age, arthritis, sports injury etc.
Silicon patellar insert
Four way stretch
Freely breathable
Soft and comfortable
Product Description
Knee Cap Open Patella Single
Neoprene
Imported
Relieves pressure
Open patella design
Reinforced patella stabilizer
Guides your knee cap in proper motion
Effectively relieves post-surgery knee pain, strains, and arthritis
Helps reduce knee joint fatigue from intense exercises and heavy usage
Installation Charge BDT 500″ Payable by the Customer to the Seller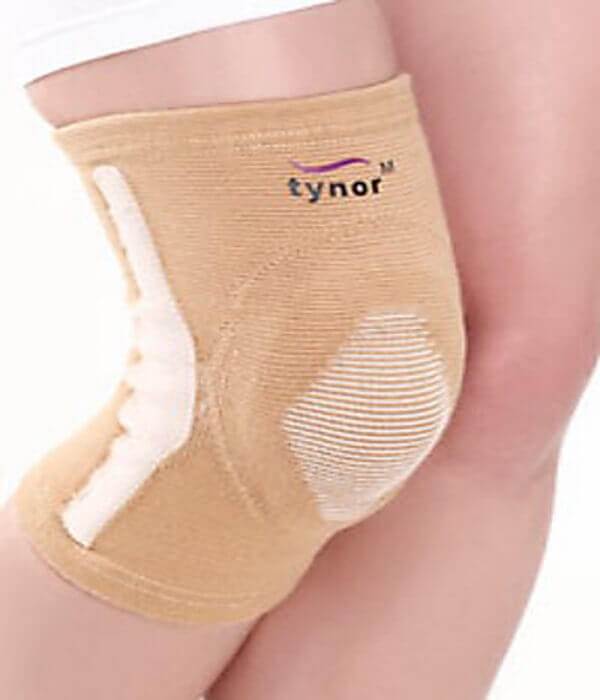 About Knee Support

What is the Knee Support?
A semi-soft Osteoarthritis knee brace that's invisible under most clothes. The Action Reliever has a unique off-loading action utilising straps to create a dynamic 3-point pressure system that is most effective on heel strike. It is available for both medial or lateral OA. Clinical study feedback: "By wearing the brace, the pain on exertion was reduced and the pain-free distance extended."

What can I use it for?
Uni-compartmental Osteoarthritis (lateral or medial)
Uni-compartmental (lateral or medial) knee conditions requiring load reduction
Features
Dynamic off-loading provided by the straps and the combined rigid adjustable hinge on the affected side / flexible stay on the unaffected side.
Anatomically shaped straps creating a dynamic 3-point pressure system: maximum off-loading on heel strike.
Anatomical knit with integrated anti-slip silicone, comfort zone at popliteal crease and stretch knit at the edges.
Easy to close thanks to the effortless magnetic buckles with finger loop.
Only 2 steps for fitting after the initial fit: slide up the leg and snap the buckles.
2 models: right medial / left lateral and left medial / right lateral.
কিভাবে অর্ডার করবেন?
মেডিস্টোরের ওয়েবসাইটে পণ্যটি অর্ডার করতেঃ আপনার পছন্দের পণ্যটি অর্ডার করতে Buy Now এবং একের অধিক পণ্য ক্রয় করতে Add to cart এ ক্লিক করুন। তারপর Product Checkout এ ক্লিক করে প্রয়োজনীয় তথ্য নিয়ে অর্ডার ফর্মটি ফিলাপ করুন।
পেমেন্টঃ
১) Debit/Credit Card or Online Banking & Mobile Wallet Payment: যে কোন ব্যাংক এর ভিসা বা মাস্টার কার্ড এর পেমেন্ট করতে চাইলে Payment Mode এ গিয়ে SSL Commesrz সিলেক্ট করুন। এরপর আপনার কারড/ব্যাংক/মোবাইল ওয়েলেট সিলেক্ট করুন। পেমেন্ট প্রসেসিং করে অর্ডার নিশ্চিত করুন। পেমেন্ট নিশ্চিত হলে এবার আপনার মোবাইল ম্যাসেজ এবং ইমেইল চেক করে অর্ডার হয়েছে কিনা নিশ্চিত হউন।
২) Bkash Payment: Payment Mode এ গিয়ে বিকাশে পেমেন্ট করতে চাই- Bkash Payment সিলেক্ট করে আপনার বিকাশ নাম্বার থেকে পেমেন্ট অপশনে গিয়ে "Make Payment" আমাদের ০১৩১৬৪০০৭৬৮ এ পেমেন্ট করে আপনার বিকাশ নাম্বার এবং ট্রাঞ্জেকশান আইডি দিয়ে Order Place করুন। পেমেন্ট নিশ্চিত হলে এবার আপনার মোবাইল ম্যাসেজ এবং ইমেইল চেক করে অর্ডার হয়েছে কিনা নিশ্চিত হউন।
৩) Nagad/Rocket Payment: Send Money তে গিয়ে Send Money সিলেক্ট করে আপনার নগদ/রকেট নাম্বার থেকে সেন্ড অপশনে গিয়ে "Send Money" আমাদের ০১৯৮৮১২১২১২ এ সেন্ড করে আপনারনগদ/রকেট নাম্বার এবং ট্রাঞ্জেকশান আইডি দিয়ে Order Place করুন। পেমেন্ট নিশ্চিত হলে এবার আপনার মোবাইল ম্যাসেজ এবং ইমেইল চেক করে অর্ডার হয়েছে কিনা নিশ্চিত হউন।

ডেলিভারি প্রক্রিয়াঃ
১) ঢাকার মেট্রোপলিটন এরিয়া: আমাদের নিজস্ব ডেলিভারি ম্যানের সাহায্য ১২-২৪ ঘন্টায় নিশ্চিত হোম ডেলিভারী করা হয়। ডেলিভারি চার্জ – ৫০ টাকা মাত্র।
২) ঢাকার বাহিরে (সারা বাংলাদেশ): এস এ পরিবহন, সুন্দরবন, জননী, করতোয়া কুরিয়ার এর মাধ্যমে সারা বাংলাদেশেই ২৪-৩৬ ঘন্টায় নিশ্চিত ডেলিভারি করা হয়। ডেলিভারি চার্জ – ১০০ টাকা মাত্র
অর্ডার করার আরও বিস্তারিত জানতে ভিডিওটি দেখুনঃ
Average Rating
5.00
Rated 5.00 out of 5 based on

1

customer rating
01
(

1

Review

)